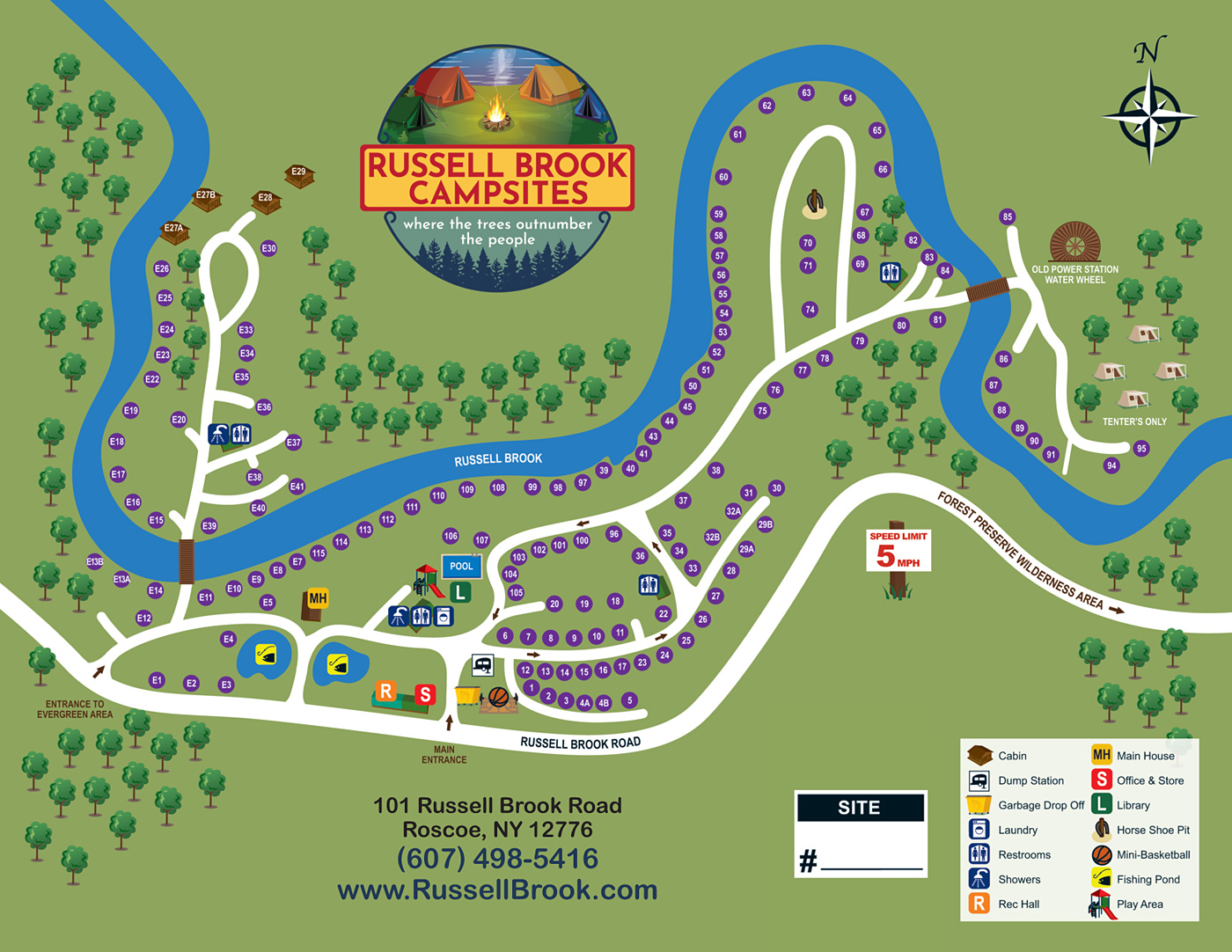 You may click on the map to download and print a higher-resolution PDF version.
Rules
Guest Passes: For your safety, comfort, and enjoyment, all guests must register in office prior to entering campsite grounds and receive a car pass.
Check-In Time: 2:00 PM - 10:00 PM
Check-Out: 12:00 noon
Speed Limit: The speed limit is 5 MPH and is strictly enforced. We are a family campground, always watch for children.
Quiet Time: Quiet hours are between 10:00 PM and 9:00 AM. Please do not disturb other campers with loud music, spot lights, loud singing or talking.
CHILDREN: Children are welcome. Parents/guardians are fully responsible for children's/ward's behavior at all times. Children under the age of 17 must be accompanied by an adult after 10:30 PM.
Disruptive Campers: will be escorted off the grounds, by the New York state police without refund and regardless of time of day or night. Our campground is family oriented.
Glass Bottles: Glass bottles of any kind are not permitted on campsite grounds.
Campfires: Campfires are permitted only in designated campsite fire pits. Please do not burn trash! Dumpsters available at camp entrance.
PETS: One pet per campsite is permited and welcome if kept on a leash at all times and never left unattended at your site. Pet owners are Responsible for picking up after their pet. Loud or vicious pets will be asked to be removed from the grounds. Sorry we do not allow pets in the cabins.
Garbage: We recycle trash. Please use clear or white trashbags. No black bags. Campsite will only dispose of household type trash. Please be sure to flatten all cardboard boxes. Do not leave garbage in laundry, restrooms or on your site. All campers are expected to clean up and remove trash from their campsite prior to leaving. Failure to do so will result in fines.
No Lifeguard on duty: All children must be accompanied to the pool with an adult 21 years of age or older.
ABSOLUTELY PROHIBITED: ATV's, Chainsaws, Fireworks, Firearms, Air guns, Sling Shots, Paintball guns, and Archery are strictly forbidden on campsite property. Cutting, mutilating, defacing or marring of any standing trees constitutes vandalism. Offenders will be prosecuted for restitution.